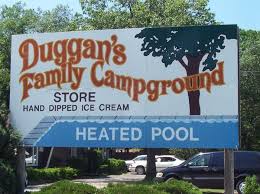 A great place to camp! Located between Port Austin and Caseville on the shores of Lake Huron. Family owned and operated since 1979.
(989) 738-5160
dugganscampground@comcast.net
2941 Port Austin Rd. Port Austin, MI 48467
Campground also has cottages, and boat docks available from May 1st through October 15th.
There are 5 Cabins in various sizes on our grounds available to rent, and 3 Rooms upstairs in our Lodge.
Weekend reservations in our Cabins require 2 night stay, and holiday weekends require 3 night stay. We also have weekly rates. All rates, pictures of each and more details can also be seen on the website.
We also have a 35 site seasonal RV Campground - everyone is here for the entire season - we do not have transit sites. Currently there is a waiting list of apprx. 25 to come into the park.
We have 25 docks on the Grindstone City Marina, mostly rented for the season, but check availability in advance for possible reservations. The State boat launch located here in the bay is free of charge, as is the fish cleaning station to guests.
No pets and no smoking is allowed in any of the Cabins or Rooms - WiFi is available in common areas around the Lodge building.
(989) 738-7664
whalensinfo@gmail.com
3373 Pte Aux Barques Rd. Grindstone City, MI 48467